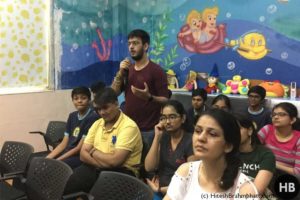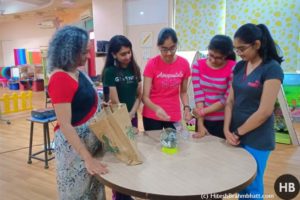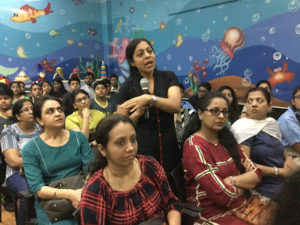 Some articles on my interactive talk with the 9th and 10th graders and their parents in Thakur International School, Kandivali, Mumbai.
Online: Mumbai News Network.
Dated: 17th April 2019
And In
2. Web News Wire:
And in
Ani in
4. HB.COM portal
Viewership : 67,900
By :
Hitesh Brahmbhatt 
   an ex-DNA newspaper writer, now publishing on his own website.
Thakur International School initiates 'Winning the game of change' workshop with Bestselling Author Geeta Ramakrishnan
 15th April 2019, Mumbai – Thakur International School has always been committed to the welfare of students.  This is evident from their stance on consistently making an effort to organize workshops for students as well as for parents. The sole purpose behind these workshops is to make the students capable and knowledgeable to raise an opinion in society. These sessions are conducted by renowned and credible professionals who understand the critical parent-child dynamics.
One such workshop was held by the bestselling author Geeta Ramakrishnan. It was called 'Winning the game of change'. It was held for the students who had given the tenth standard board examinations as well as the students who were about to enter the tenth standard and their parents. The session was an interactive one. It focused on helping students, parents, and teachers cope with the changes that would occur once the students pass out of school and enter college.
The need for such a workshop has been felt by students and parents all over the city. This has been primarily due to the absence of a formal mechanism which smoothens the transition from school to college life for the students. As these students are at an impressionable age, they find it difficult to cope up with several changes related to lifestyle, expectations, studies and social interactions once they enter college. Parents too aren't sure about what to expect unless they have an older child who has been through the rigor. Yet, every child is different and therefore would require mentoring. Students are often unable to handle the stress related to academics or social life in college and end up taking inappropriate steps to deal with pressure. Geeta Ramakrishnan's workshop highlighted the need for open interaction between parents and their wards as a solution to deal with such challenges.
Ms. Shunila Joy Chauhan, Principal of Thakur International School – Cambridge, says – "The workshop was an interactive and insightful experience for our parents, students, and teachers. The session was all about motivating and encouraging students to shed their inhibitions and speak their mind. The interesting part was the innovative and practical examples given by the author on handling change skilfully and constructively. Being proponents of 'dialogue and discussion' as an integral life skill, we believe that such value-adding workshops go a long way in preparing our students for the future."
  "It's always fun engaging with kids and identifying what interests them. It is important to understand their problems because they are hesitant about sharing their thoughts and opinions with people, especially adults. The best part of this workshop was that these children were very interactive and open about their peer pressure. They expressed keenness on achieving their goals and focusing on managing their time. I personally believe that as parents, we have to be enablers and not intruders for our children. It is better to share our thoughts with them, ask their opinion and have a conversation with them rather than telling them what to do", mentions Ms. Ramakrishnan
"We are extremely happy that this workshop was conducted; it was the need of the hour. Ms. Ramakrishnan was warm, interactive and engaging throughout the workshop. The session added tremendous value to the relationship that I share with my child. I learned new parenting techniques such as preparing my child for teenage years and shaping her attitude to deal with peer pressure. We are keen to be a part of similar such workshops in the future- they're real eye openers", says the parent of a Grade 9 student.
Posted by Bharat Jesrani at 11:37
Email ThisBlogThis!Share to TwitterShare to FacebookShare to Pinterest
Labels: Thakur International School